Model Name
Check Valve

FPC-800

Full BoreCLASS 800

1/2" ~2" DN15~DN50


Features
API602 Forged Steel Check Valves
1. API602 FPC-800
2. PISTON TYPE
3. BOLTED BONNET
4. MALE-FEMALE JOINT, SPIRAL WOUND GASKET
5. RING JOINT GASKET
6. WELDED BONNET WITH THREADED AND SEAL WELDED JOINT
7. FULL PORT OR CONVENTIONAL PORT


Notifications
Dimensions
Please refer to the Dimensions section.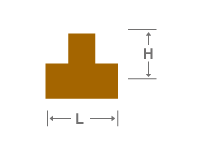 Measurement Units
1. All lengths are measured in millimeter and inch.
2. All weights are measured in kilograms and pounds
About Product
1. Shipping and Tax are not included in pricing.
2. All products supplied by Modentic are under products liability insurance.
3. Valvebus.com reserves the rights to change any details without prior notice.
About VALVEBUS
VALVEBUS.com reserves the right to change any details without prior notice.
Back to Top



Specifications
MODEL
FPC-800
PRODUCT TYPE
API602 Forged Steel Check Valves
OPERATION
Piston Type
PRESSURE
CLASS 800
CONNECTION
Threaded End
PORT
Full Bore
BODY
Material
ASTM A105N + STL#6
CAP / BONNET
Material
ASTM A105N
DISC
Material
ASTM A182 Gr.F6A
SEAT
Material
-
BODY SEAL
Material
SS304 + GRAPHITE
SPRING
Material
ASTM A182 Gr.F304
API602 FPC-800
STANDARD COMPLIANCE
• MSS SP-118
• ASME B16.34
• MSS SP-25
• ASME B16.11
• ASME B1.20.1

OPTION
• Request full penetrated strength welded joint is available
• Spring available
• Other materials upon request
PISTON TYPE
The piston-type lift check valve is a modification of the standard lift check valve. It incorporates a piston shaped plug instead of the cone, and a dashpot is applied to this mechanism. The dashpot produces a damping effect during operation, thereby eliminating the damage caused by the frequent operation of the valve, for example, in pipeline systems, which are subject to surges in pressure, or frequent changes in flow direction.
Threaded End
END CONNECTION STANDARD
ANSI B1.20.1( NPT ) / DIN 259 /
DIN 2999 / ISO 228 / BSP / PT




Dimension + Weight
SIZE
NPS
E
mm
H
mm
L
mm
WEIGHT
kgs
DN15
-
70.0
76.0
-
DN20
-
75.0
92.0
-
DN25
-
90.0
106.0
-
DN32
-
110.0
120.0
-
DN40
-
110.0
140.0
-
DN50
-
130.0
144.0
-
SIZE
Inch
E
Inch
H
Inch
L
Inch
WEIGHT
lbs
1/2"
-
2.8
3.0
-
3/4"
-
3.0
3.6
-
1"
-
3.5
4.2
-
1-1/4"
-
4.3
4.7
-
1-1/2"
-
4.3
5.5
-
2"
-
5.1
5.7
-